Annie
: is a Lab mix approximately 4 months old. She was found hungry and covered in ticks  living in the woods with her 2 litter mates.
Annie is the smallest of the three. She is as sweet as she is petite, Annie is laid back, still slightly timid although wants to show love and be loved so bad her entire butt wiggles when you talk to her.
When she becomes available for adoption she will be vetted and spayed, and well socialized.
Her Fosters are also working on housebreaking and leash manners.
If you are interested in adopting sweet Annie, please contact www.arfn.org for adoption application .
Home check, meet and greets, vet references are a must.
Benny:
is a Lab mix approximately 4 months old. He was found living in the woods with his two litter-mates. He and his sisters were found hungry        and full of ticks,
 Benny has a gorgeous black coat, with a tiny splash of white on his chest.
 Benny's personality is very playful and  mischievous, and would probably love a few kids to grow up with!  His foster parents are working on healing his skin along with socializing and working on leash manners and housebreaking.
Benny will be vetted and neutered when he is ready for adoption.
If you are interested in this handsome boy please contact www.arfn.org for adoption application.
Application,  home check, meet and greets and vet references are a must.
Shelby: is a Lab mix approximately 4 months old. She was found living in the woods with her two litter mates.
Shelby out weighs her brother and sister by 6 lbs. she was their "caretaker."
Shelby's personality is very sweet, and confident. She is very bonded and protective over her smaller siblings.
Whoever is lucky enough to adopt this girl I'm sure will share a special friendship. Shelby did great today, for her first time on leash! She is very smart and eager to please.
Fosters are working on socializing, leash manners and housebreaking. She will be vetted and spayed when she becomes available for adoption.
If you are interested in Shelby, please contact www.arfn.org for an application.
Home checks, vet references are a must.
Rudy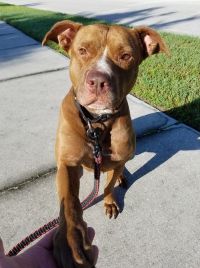 is a sweet boy who has been without a home for FAR too long. He was found as a stray on 12/12/12. As of mid June 2016 he has been in rescue 1,269+ days. He is a good boy, he is house trained, crate trained, good with kids and walks well on a leash. He understands that the only toys that are his are the ones you give him. He would like to be an ONLY pet but he LOVES people. Rudy doesn't ask for much but he really wants to be adopted!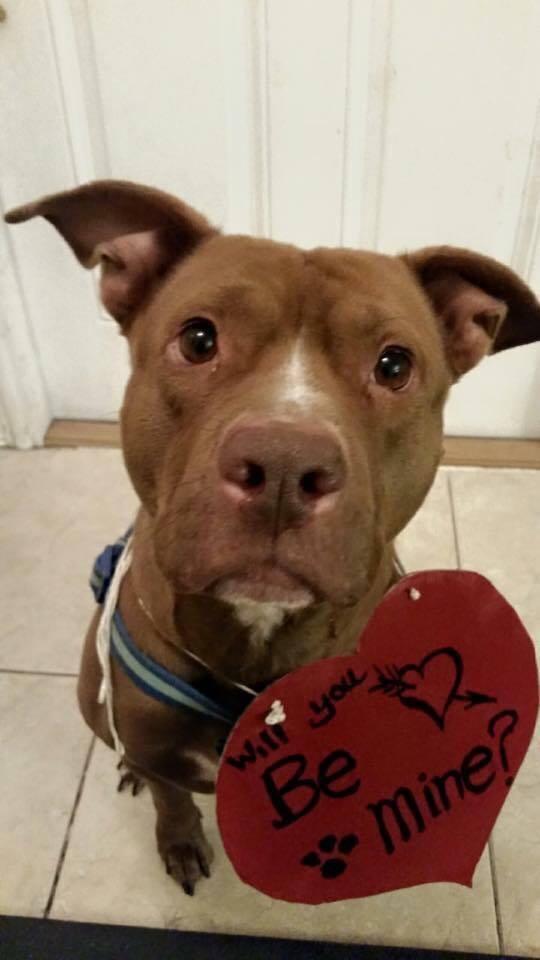 Tally

is intelligent, energetic, loyal and loving. She warms up well to other dogs after slow introductions, especially those that don't get in her face. She is house trained and crate trained, and is respectful of cats as she gets along well with her foster's cat. She does well with adults and children. When meeting someone new she barks and pulls on her lead but then becomes submissive as the new person approaches to meet her. She takes treats gently. Tally is very energetic; she would do well with an active family. She is also VERY agile and can easily jump a four foot fence. Because of this interested adopters should have a six foot fence so that Tally can safely get her "zoomies" out. Tally craves love and attention. She loves spending her days in the home office with her foster dad (especially when he's not distracted by his day job). She is up to date on vaccines, spayed and microchipped. She is looking for a home office to call her own! Got room in your organization for this sweetheart?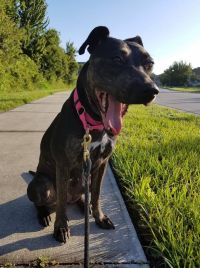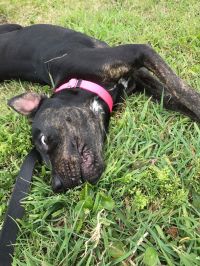 Click link below to see
Oscar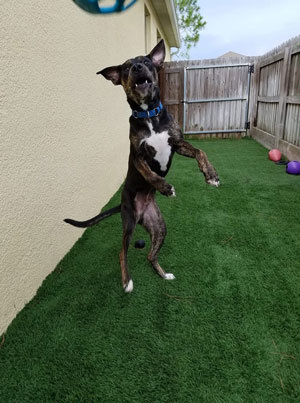 Oscar is a handsome 2 year-old male Plott Hound mix weighing 65 lbs. He is neutered, microchipped and fully vaccinated. He is good with other dogs, cats and respectful children. He is crate trained but still has the occasional accident in the house, especially if his human isn't paying attention. He very much enjoys running around the yard with the other dogs, playing fetch with just about anything you could toss across the yard and snuggling in bed at night. He knows Sit, Down and Wait commands very well and is highly treat motivated. Outside of his home surroundings Oscar is anxious and warms up to new people and things very slowly. In his surrounding he's just the opposite…outgoing, friendly and meets new people quickly. Oscar is a true homebody. If you've got an empty spot on your couch,  something for him to fetch, and a little patience, Oscar may very well be the dog for you!
Pepper
is an approximately 3-year-old Female Lab / American Bulldog mix who weighs-in at just over 50 lbs. She was surrendered to the rescue by a homeless veteran who had been evicted from his home after his friend passed away. The owner was living on a covered front porch at a neighbor's house when volunteers met him. He had two dogs, one of which was picked up by another rescue. In order to get both the owner and his second dog off the streets, ARFN accepted Pepper into the rescue just before Tropical Storm Alberto, passed through the area. She is a very playful, affectionate, and attention-seeking dog. She adores belly rubs and loves to give kisses! She appears to be house trained and crate trained. She takes treats very gently and allows toys to be taken from her mouth. She is good with other well-mannered dogs after introductions. She prefers NOT to be in a home where there are cats. She gets along well with adults and children, however, she is not recommended for homes with small children as this girl has a lot of energy! Pepper knows the sit command. She could benefit from obedience training and lead work as she pulls when being walked. She is spayed, micro-chipped and up-to-date on all of her vaccinations. She has a wonderful temperament and is a fantastic dog…definitely worth her salt! If you'd like to meet her please visit arfn.org and complete an online adoption application. 
Princess
7 year-young Cur-mix
 who weighs approximately 40 lbs. She transferred into rescue from Animal Control where she was surrendered as part of an overwhelmed caregiver investigation. She has lived in a kennel facility the majority of her life; the last 10 months of which confined to a run inside an industrial building /converted office space with limited access  to a yard for walking, playing or exercise.  Please Follow this link for the News Article for the more recent history of Princess   Princess Rescue/surrender
Princess is an incredibly sweet and affectionate dog. She's energetic, agile, and is learning to play with toys. When she receives attention she almost immediately rolls over on her back as if to invite a hearty belly rub. She is house trained and crate trained, takes treats gently…even the tiniest of treats…and knows basic obedience commands including Sit and Down. She and her foster continue to work on Stay, Come and Wait. She will need refreshers in walking on lead as she tends to pull a bit (which decreases the longer she walks). 
Princess is good with adults and children, but may be better suited for older children as she gets a bit bouncy when she's excited. She has exhibited tenancies to be dog selective, especially toward dogs larger than she is. Slow, iterative introductions will be key for this sweetheart.
Princess is spayed, microchipped and up to date on all vaccinations. If you're looking to bring a little royalty into your home, Princess may be the ideal selection. She'll leap into your heart in no time!        RESCUES IN ACTION MAY 25th 2019